Tags
Baker Creek Heirloom Seeds, garden planning, garden zone, High Mowing Organic Seeds, Johnny's Selected Seeds, Mother Earth News, online garden planner, online seed company, seed company in UK, Seed Savers Exchange, succession gardening, The Real Seed Co
How do you get started? Does it seem daunting?
Worry no more! It's not as hard as you would think!
First, figure out what kind of space you are working with. Will you be limited to the kitchen windowsill? Containers on the porch or a balcony? Or do you have a bit more room where you are either gardening into the existing soil or building raised beds? Whatever you are working with, figure out how much of each veggie you can plant and how much space each will require.
Second, figure out what it is that you want to grow! 
If you are a list-maker like me, then you will have a list going of stuff that appeals to you, veggies that you have grown in the past and enjoyed and veggies that you would like to try your hand at this go-around. But also consider what you are growing each veg for. Do you want to make a bunch of homemade salsa? Are you looking to have enough onions to cook with throughout the winter? Are you going to make pickles out of all of your cucumbers? Are you drying and storing the beans or eating them fresh as they become ready to eat? Tons of greens for salads?
Then, narrow it down.
This is where your garden measurements and list of things to grow comes together. If you are limited in space you might not be able to grow all the carrots and onions you want to keep you in veg through the winter if you want to also grow tomatoes for canning. Just make sure you know what you really want to grow and for what so that you can make the decisions that best suit you and your family.
Knowing your garden zone will also help you in this endeavour as some things you want to grow may not do well in your zone. Also, there are things that grow early in the season and once they have been harvested, you can replace them with something that is harvested later in the summer or early fall. This is good for keeping a nice rotation of veggies coming out of your garden all summer long!
Next you want to map it out.
You don't necessarily have to draw a grid and map on grid paper but drawing a rough sketch of your space and pencililngin what you want to grow (how many rows or how much space it will take) will help you visualize what you really have room for. Keep in mind that vertical gardening is really popular and there are varieties of cucumbers, melons and squash that lend themselves nicely to being trellised upwards so that you can free up more space in your garden and plant more varieties of veg in your garden.
If you aren't confident with a ruler and pencil, you can try some online garden planning tools. Gardener's Supply has a free online garden planning tool that will help you turn your list of veg into a garden. This will help you figure out how much of each plant you can grow, and you can figure out succession gardening as it will tell you what you need to do next.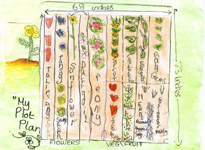 This is a great example of a simple garden journal you can keep too… if you are just starting out, it can help you figure out what is happening with your garden!
Time to go shopping! Get your list and hit the stores! But you still have some decisions to make: are you going to start your seedlings inside or directly in the containers, raised beds or soil outside? Will you be buying transplants instead? If you are starting seeds inside you will need compost and seed starter trays as well as the seeds themselves. If it is not quite time to buy seeds yet and you want to look into all the things you can buy, you can order a free catalogue or look at the online shop from these seed companies!
For those in the UK, this was our favorite seed company, The Real Seed Co.! They are very good about telling you which varieties do well in your region and some of the seeds are heirloom varieties that have been around for hundreds of years! Pretty neat, I think!
Write it all down on a calendar! 
Some people keep a special calendar just for their gardening – and on it tells them when to expect to harvest their veg, you can write down each day that you water or weed the beds as well as when to plant. This can be very important to keep track of if you are succession gardening as well. But of course, there are a number of online resources to help you do just that:
It doesn't take much time in the end and helps you sort out what, where and when to plant things in your garden so that you get the most out of your time and energy, and who doesn't want that?
What are you planning on planting this year?